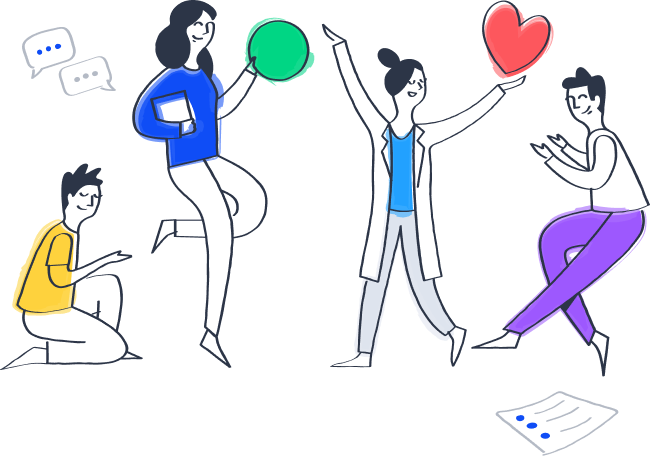 About Us
HeyDoctor is built with love in San Francisco, Seattle, and New York. Our team includes doctors, researchers and industry leaders. Check out our open positions if you're interested in helping us improve the quality and lower the cost of healthcare.
Everyone Deserves Affordable, High-Quality Health Care
We know healthcare can be costly and confusing - and we want to help. We're building a new healthcare experience that connects patients and providers in a way that is delightful and simple.
You can get medical care online today for a variety of services and chat with a doctor about your healthcare goals. HeyDoctor, along with our partner health systems, want to be your first stop for healthcare online and your personal medical record.
See What Our Patients Say
Very impressed!
I have been in the medical/pharmaceutical industry for 20 years. I am very proud of the accomplishments in terms of discovery of...
See More
It works!!
I was skeptical at first, but the doctor was able to call in antibiotics in under an hour. The medicine is working. I've recommended this...
See More
Worked so well and so easily!
Helped me in a pinch! It was a Sunday and we've got a hurricane headed our way on Wednesday so there was no chance of...
See More
Medical Leadership
Brendan Levy, MD
Chief Medical Officer
Read More
Lindsey Mcllvena, MD MPH
Assistant Medical Director
Read More
Doug Kamerow, MD MPH
Assistant Surgeon General, Professor - Family Medicine - Georgetown University
Read More
Meghana Kunkala Helder, MD
Assistant Professor - Cardiothoracic Surgery - University of South Dakota
Read More
Sharon Orrange, MD MPH
Assistant Professor - Internal Medicine - University of Southern California
Read More
Stephen Bent, MD
Professor - Evidence Based Medicine - UCSF
Read More
Swati Shree, MD
Assistant Professor - Maternal Fetal Medicine - University of Washington
Read More
Our Team
Rohit Malhotra
VP, Business Development
Kyle Alwyn
Director of Engineering
Sara Lambe
Patient Support
Hurshal Patel
Software Engineer
Erik Shestopal
Software Engineer
Jessica Grayson
Operations
Rudy Brown
Patient Support
Scott Schlegel
Software Engineer
Ethan Faye
Patient Support
Michael Watchmaker
Designer
Ryne Maloney Risner
Patient Support
Steve Goodrich
Patient Support
Mardin Yadegar
Software Engineer
Join Us
Check out our open positions if you're interested in helping us improve the quality and lower the cost of healthcare.
Clinical Team
San Francisco or New York
We have a mission-driven clinical team, from doctors to physician assistants, working together to give patients the best healthcare experience they've ever had. If you are a clinician and share our passion to provide all Americans with personalized, affordable, high quality healthcare - come join us!
Other Roles
San Francisco
Are you an engineer, designer, patient advocate, or operations person interested in working in the healthcare space? Check out our openings! Don't fit one of the categories above but still want to talk? Send us an email at jobs@heydoctor.com
Provider Feedback
We want to hear from medical professionals working every day to improve our healthcare system! We know we are a part of a broader coalition working to improve the healthcare system and your feedback is invaluable - send us your thoughts, suggestions, and any other feedback to feedback@heydoctor.com.
Check out the HeyDoctor app
With over 1,000 5-star reviews, we're one of the highest rated medical apps. See for yourself!